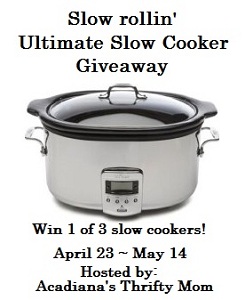 Holy moley!! Acadiana's Thrifty Mom has teamed up with American Family, Written By Mama and an awesome group of bloggers to bring you this absolutely amazing giveaway for 3 slow cookers valued at $150 each! They are 6 quarts each.
3 prizes means 3 times as many chances to win ♥ We really can't wait to choose the winners on this giveaway. Just in case you missed it…there are going to be 3 winners! Yeah, that's right 3!!!!
This awesome givewaway is sponsored by American Family and hosted by Acadiana's Thrifty Mom & Frugality For Less ♥ Just fill out the simple rafflecopter form below.

Ad as always….GOOD LUCK ♥
*This is opened to US citizens only. This giveaway will run from 9:00 p.m. EST on April 23 through 12:01 a.m. EST on May 14.
6 Responses to "Slow Cooker Giveaway"